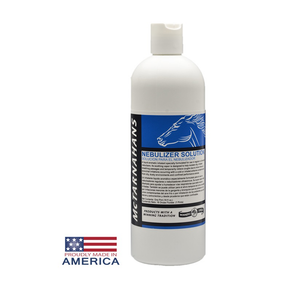 Nebulizer Solution
DESCRIPTION:
A liquid, aromatic inhalant with a soothing vapor. Used to moisten dry, irritated breathing passages. Can be used in ultrasonic and regular nebulizers. Use Solution at full strenght with Nebulizer. Do not dilute solution.


INGREDIENTS:
It contains: Essential Oils in a Deionized Mentholated Aqueous Base.

ADMINISTER:
Shake well before using, add nebulizer solution full strength directly to nebulizer reservoir. Follow directions of nebulizer manufacturer. Allow horse to breathe in aromatic mist 20 minutes daily as necessary. For best performance, nebulizers should be thoroughly cleaned after each use according to manufacturers instructions. Use fresh NEBULIZER SOLUTION each time nebulizer is used.
---
We Also Recommend
---