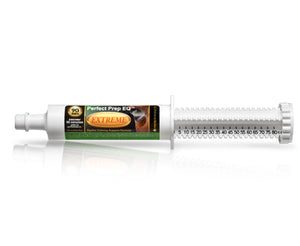 Perfect Prep EQ™ Extreme
DESCRIPTION:
Perfect Prep EQ Extreme is a quick acting, targeted calming support for increased focus during your horses' stressful situations.


INGREDIENTS:
Its active ingredients are:
Magnesium
Inositol
Thiamine
L Tryptophan
It contains no prohibited substances. Perfect Prep EQ Extreme comes in one presentation of 80cc.
ADMINISTER:
For maximum effect, use one full oral syringe (80cc) 90 minutes prior to the activity. Effects begin one hour after the administration and can last up to six hours. Feed carefully to assure swallowing. Flows best at room temperature.
---
We Also Recommend
---