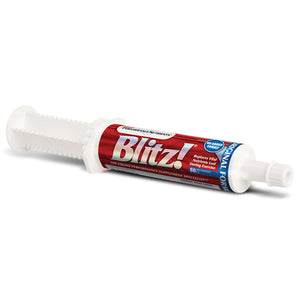 Blitz
DESCRIPTION:
Blitz Paste is more than an electrolyte, more than an amino acid paste, more than a vitamin/mineral and more than a digestive support product! It combines over 35 food grade ingredients in the proper proportion and dose for the absorption and is concentrated. It helps keep yout horse fresh; it helps your horse finish the event stronger and supports its recovery.

INGREDIENTS:
Blitz replenishes nutrients lost during intense activity; its active ingredientes per 80 cc are:
Potassium Chloride
Sodium Chloride
Magnesium Aspartate
Calcium Carbonate
Potassium Aspartate
Calcium Phosphate
Electrolytes & Minerals: Salt
Potassium
Calcium
Phosphorus
Magnesium
Zinc
Copper
Manganese
Cobalt
B Complex Vitamins: Thiamine (B-1)
Riboflavin (B-2)
Niacin (B-3)
Pantothenic Acid (B-5)
Pyridoxine (B-6)
Folic Acid (B9)
Cyanocobalamin (B-12)
Herbal: DGL Licorice Root Extract
L-Leucine
L-Valine
L-Isoleucine
L-Glutamine
L-Taurine
L-Lysine
L-Alanine
L-Arginine
L-Aspartic Acid
L-Cystine
L-Glutamic Acid
L-Glycine
L-Histidineg
L-Phenylalanine
L-Proline
L-Serine
L-Threonine
L-Tyrosine
Vitamin C
Choline
ADMINISTER:
Administer as follows:
Training: Administer 1/2 tube (Approx. 40 cc) 1 hour before and after exercise.
Performance: Administer 1 tube (Approx. 80 cc) 3-4 hours before exercise.
Endurance Exercise: Administer 1/3 tube (Approx. 26 cc) every 2-3 hours of activity.
Note: Use in accordance with event rules which govern the use of all products, including the timing for when products may be used.
Disclaimer:
Except as otherwise provided herein, no warranties are expressed or implied. Neither Peak Performance Nutrients, Inc. nor its authorized re-sellers will be responsible for any consequential, incidental, special or indirect damages arising out of the use of this product.
---
We Also Recommend
---