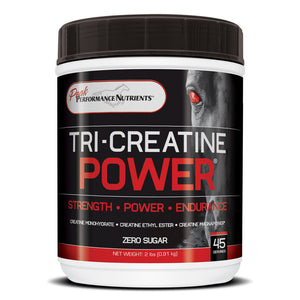 Tri-Creatine
DESCRIPTION:
TRI-CREATINE POWER® uniquely blends 3 advanced forms of Creatine to encourage maximum absorption for explosive energy out of the gate plus TMG (Betaine) for muscle hydration. Creatine is a nutrient that occurs naturally in the body and in some foods. Horses naturally have lower levels of creatine in the body that humans. Creatine functions as an energy source in muscle cells, helping promote muscular output and reducing fatigue during intense exercise. Tri Creatine Power makes supplementing creatine easy by combining the three top forms along with Betaine (TMG) to help build more strength and muscle.


INGREDIENTS:
TRI-CREATINE POWER active ingredients per 20 grams, a Proprietary Blend of (20,000 mg):
Creatine Ethyl Ester
Creatine Monohydrate
Creatine MagnaPower® (as Magnesium Creatine Chelate)
Betaine (TMG)
DISCLAIMER:
Except as otherwise provided herein, no warranties are expressed or implied. Neither Peak Performance Nutrients, Inc. nor its authorized resellers will be responsible for any consequential, incidental, special or indirect damages arising out of the use of this product.
ADMINISTER:
Administer 20 grams (1 scoop) twice per day on feed or as directed by your veterinarian or equine nutritionist.
• Pre-Event Use: Administer 20 grams (1 scoop) twice per horse per day on feed for 3 days prior to the event and 1 scoop the morning of the event.
• Note: Use in accordance with event rules which govern the use of all products, including the timing for when products may be used.
---
We Also Recommend
---